Modulating/Control Valves
Pneumatic and Electric Operated Control Pinch Valves Unique Design Characteristics
The features and benefits of the RF Valve® and aiRFlex® pinch valves offer superior performance when….
Abrasive and corrosive media result in high valve wear
Scaling of mineral or chemical deposits cause valves to seize / fail to shut off due to build up on exposed valve stem and sealing surfaces
Fibers or other handling characteristics of the media cause valves to plug or leak
These conditions present themselves in many process industries worldwide as slurry valves, sludge valves, tailings valves, lime slurry valves, wastewater valves, dewatering valves as well as manual flow control valves for pump back pressure and more intermittent control requirements.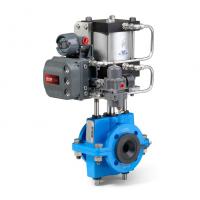 Most Advanced Valve Positioners Available
RF Valves serve as platforms for the most advanced analog and digital positioners for pneumatic control valves available in the marketplace today, including precision products from industry leaders such as Siemens, PMV, Fisher-Rosemount, ABB/Bailey, Valtek, and Metso Automation. As a manufacturer of high performance pinch valves, RF Valves recognizes that modulating control valves are critical to process industry performance. To insure that RF VALVE® is up to the task:
All control valves are built to ASME/ANSI B16.10, ANSI/ISA, DIN and ISO face-to-face dimension standards
Designs incorporate materials of construction to best resist corrosion and other severe service environments
Only the best available elastomers and elastomer tube construction
Up-to-date communications protocols for modulating valves with 4-20mA analog or digital control/feedback signals and compatible with Foundation Fieldbus, Hart, or Profibus protocols
Class VI, zero leakage shut-off
For electro-mechanical multi-turn electric control valves the same standards and quality applies. Customers and specifying engineers can select from a number of well-known manufacturers including EIM, AUMA, Rotork and Limitorque.
Together, all RF Valve® and aiRFlex® control valves offer:
Inherently higher Cv values ( allowing a smaller valve) and the ability to characterize valve trim to specific flow requirements
The most robust elastomer tube design
Wear sensor technology for preventative maintenance
In-line elastomer tube replacement resulting in the lowest life cycle cost and best process control for slurry, sludge and liquids in industrial and municipal applications.
Built In Safety Factor and Flexibility
RF VALVE Control Valve designs offer the flexibility to alter the elastomer tube ID, or trim, as much as two standard sizes to optimize control valve sizing and precision. This feature provides customers:
A built-in safety factor with full port design pressure upon selecting a valve, where other designs often require the selection of a larger less accurate valve size to achieve the same end
Full and reduced port elastomer tubes
Advanced configurations for dealing with abrasive, corrosive, scaling and plugging prone services, increasing wear life over conventional metal and elastomer liner designs (selected profiles, below).
Improved land safety when maintenance is performed in-line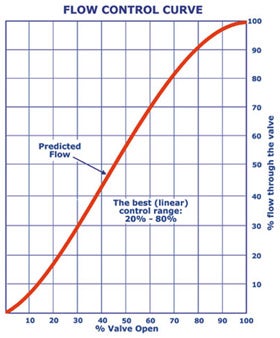 Superior Linear Control
The ability to offer full and reduced port valve trim allows each valve to be precisely characterized to optimize flow control. Flexibility in specifying RF Control Valve trim shape and ID results in more linear flow characteristics and less turbulence than other valve types with deflections, rubbing components, and poor shut-off that accelerates wear. In addition, RF Valve mechanical closing device is supplied standard with the preferred "center-line" design, closing on the elastomer tube equally from both sides. This design is a marked improvement over older "one-sided" top down mechanisms that stretch and stress sleeves unnecessarily, are partially obstructed, and have a more contorted "weir" type flow that can accelerate wear and diminish control valve accuracy.
Reduced Turbulence and Cavitation
RF Control Valves extensive use of reduced port (cone style) tubes for modulating control minimizes the effects of turbulence and cavitation wear, more prevalent with full port sleeves following the "vena contracta" or pinching zone. Thicker, more robust in their construction, reduced port tubes also provide the additional wear rubber required to last longer in severe services can also be supplied with wear sensor wire technology.
Type 4 - "Single Cone" reduced port ID used when abrasive media, high velocity and pressure drop are significant factors contributing to elastomer wear.
Simple Air Operated Designs
Utilizing the same superior elastomer tube technology for full and reduced port tube configurations, our air actuated control valve, the aiRFlex® valve, is operated on plant air alone, eliminating the cost and maintenance associated with pneumatic cylinder shafts, seals, positioners or electro-mechanically electric operated designs. As an air actuated valve, valves can be modulated manually or with proportional pressure 4-20 mA or digital controllers in services that do not exceed 50 psi working pressure. The aiRFlex® has the advantage of both simplicity (no moving parts inside the valve) and the capability of mounting the controller away from the valve in a location most convenient to operators.